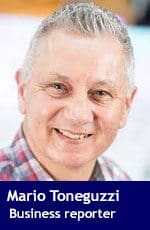 If you're working in British Columbia and Alberta, a new report by Morneau Shepell contains good news.
The company's annual survey, Trends in Human Resources, released on Tuesday, says the two provinces will lead the country in expected salary increases in 2019. B.C. will lead the pack at 2.8 per cent, followed by Alberta at 2.7 per cent.
"This follows the trend witnessed last year, with western Canada taking the lead in the country's growth tables – Alberta recorded the fastest expansion and British Columbia posted its strongest pace in more than a decade," said Morneau Shepell, a human resources and technology consulting company.
It said employers in Canada are expecting salaries to rise by an average of 2.6 per cent across the country in 2019.
"Employers remain relatively confident about compensation expectations in the coming year," said Anand Parsan, vice-president of compensation consulting. "Those expecting healthier financial performance in the coming year outpace those expecting worse performance by six to one. In the face of this optimism and a labour market with no slack, however, employers remain guarded about salary increases, perhaps reflecting anxiety over the possibility of more trade protectionism, rising interest rates and a Canadian economy operating close to its capacity."
The company said the expected 2.6 per cent increase is consistent with the current rate of inflation. In July, the Bank of Canada noted that consumer price index inflation is expected to rise to about 2.5 per cent, before settling back to 2.0 per cent by the second half of 2019.
"The survey identified some industry sectors that are expecting higher than average salary increases in 2019. They include real estate, rental and leasing at 3.8 per cent, professional, scientific and technical services at 3.0 per cent, educational services at 3.0 per cent and public administration at 2.8 per cent," it said.
"These industries may be catching up after below average increases over the past few years. Expected salary increases in sectors such as finance and insurance, manufacturing and retail trade are expected to remain strong at 2.7 per cent next year."
Respected business writer Mario Toneguzzi is a veteran Calgary-based journalist who worked for 35 years for the Calgary Herald in various capacities, including 12 years as a senior business writer.
---

The views, opinions and positions expressed by columnists and contributors are the author's alone. They do not inherently or expressly reflect the views, opinions and/or positions of our publication.
Calgary's Business is a Troy Media Digital Solutions Associate website